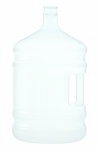 High Country Springs Bottled Water


Pilot Mountain: 336-374-7474
Hickory: 828-322-7477
Statesville: 704-872-7077
Wilkesboro: 336-957-8500
Virginia: 336-374-7474
info@highcountrysprings.com
High Country Springs Bottled Water is a full-service bottled water company specializing in home and office delivery of spring, distilled, reverse osmosis, deionized, and fluoride water. We have several sizes available, carry several types of water dispensers, and provide office coffee service to meet your every need.

---

A Little about Our Water

Our spring site is nestled among the rolling hills of the beautiful Blue Ridge Mountains, at a small community formerly known as Good Springs, North Carolina. In days past, people traveled from near and far to gather the sweet tasting water that escaped from the same aquifer we tap. Today, this water is being bottled for all to enjoy.

Our water is filtered through natural layers of rock and tapped from the aquifer just before the water reaches the surface. Our water is further filtered at our bottling facility using an absolute filter. We pasteurize our empty water bottles to kill any bacteria inside and outside of the bottles before filling and capping under pressure.

Our bottling facility is state of the art. In addition, our bottling facility is an active member of the International Bottled Water Association (IBWA) and operates under the authority of the FDA.

---
Welcome